by Jinx Watson
What a LABOR DAY picnic!!  Bright light in dark times!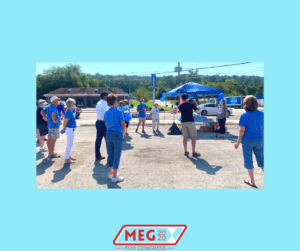 Meg Gorman and her team from Chattanooga were blown away! They liked the "DRIVE" our Roane County team displayed!
35 people were there at 11:30 to hear Meg Gorman talk. By now, people are viewing/listening to her remarks on all our social media avenues.
Hugh Willett, himself, came to cover the story and then, he sent his news photographer.
The numbers of folks who came blew all of us away! We ran out of 50 sandwiches and gave away 10+ snacks away, afterwards. Some never came to get snacks. Susan kept a sign-in sheet of new folks but none of these numbers really pin it down. We might settle on a number, over the 2 hours, of 70-75 who visited!
In sum, none of this could happen without the amazing, organic and intentional, focussed help each and everyone on this list offered the effort: from poster to set up, to runs to the RCDP storage building, to runs to Bethel, to jumping up and down in an Uncle Sam's outfit (you know who you are!) to selling merch, to interacting with old-time Democrats who used to come to meetings and remembered the former picnics, to talking about our colleague and friend, Joe Eskridge to each other, our one sadness in all this positivity.
We are an outgoing, very energetic group of volunteers who care about this election. I know we'll dedicate the same level of "drive" to our weekly October pop-up headquarters. so rest up for a bit and let's find some letter writing possibilities before we get out to face the public again!
thank you RCDP!!